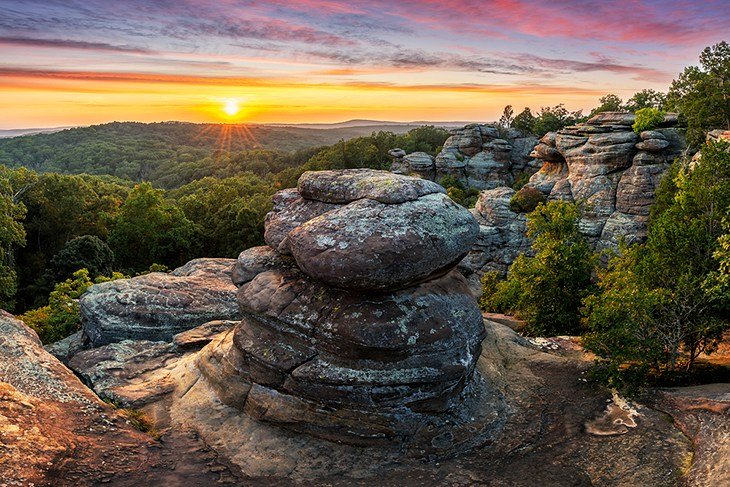 Kentucky, known as the Bluegrass State is well-known for horses thanks to the Kentucky Derby, bourbon, Corvettes and college basketball but more importantly, Kentucky is known as a hospitable state where locals great you with a smile and where conversation is easy to develop whether you know someone or not. Rolling hills adorn the countryside and it's not difficult to find a beautiful lake on a hot summer day, a long and winding country road when you want to take a tour or delicious home-cooked food at a local mom and pops restaurant in virtually any city in the state.
Other than the simple, down to earth life that Kentucky offers, the state is also home to world renowned healthcare, coal mines, horse farms and cropland and sporting goods companies such as Louisville Slugger, the baseball bat manufacturer and yes, even Kentucky Fried Chicken is headquartered in this beautiful state. Employment opportunities abound in Kentucky and many people have relocated to the state to follow their career path in fields such as leisure and hospitality, finance, transportation and even government and farming.
Planning a move to Kentucky? If so, let's look at a few quick tips to help ensure you move is smooth and as stress free as possible.
Research
While Kentucky is beautiful from one end of the state to the other, each individual city has its own traits and local characteristics. Take time to sit down and research the local area to learn about local shopping, education opportunities, healthcare facilities and other information you are going to need when you arrive. If possible, take a quick road trip to the area to see firsthand how beautiful the scenery is and meet a few of the locals before you even make your move.
Home Sweet Home
Whether you need a large family home or a small apartment for one, talk to your realtor to learn about the local neighborhoods in the area, homes available for sale and any special perks of living in specific areas of the city. These would include things like public pools or parks, lakes or woodland areas for recreation, camping, hiking or more.
Moving Right Along
Let's face it, moving is a great cause of stress whether you're moving across the country or even just one block down the road. Before you start calling the movers to handle your relocation, take time to carefully go through your belongings to downsize before the move. Moving to a larger home and know that you will have plenty of room for everything? That is wonderful, but if you have not used something in more than six months, what's the point in using your time and energy as well as money to relocate it to the new home? Sell it or give it away and save room on the truck for the items you plan to utilize frequently.
Children
If you have small children, seek sitter services to allow you plenty of time to pack boxes or to make sure they are taken care of when everything is being loaded into the truck on moving day. For older kids, it's a good idea to have them help with packing and even carrying some of the boxes to the moving truck. Moving to a new home can be stressful for children and if possible, sit down with them to look at some of the new, exciting things they may be able to participate in once you get to the new address.
Pets
Pets can be a joy to have in your home and it's a good idea to pack a little bag to make sure they have ample food and water during the move. Be sure to run by the vet and grab their health and vaccination records so you can easily transfer veterinary services when you are in your new home.
Keep a Paper Trail
When you are making a move to a new home, it's a good idea to keep the receipts for everything related to the move. This includes moving truck rental receipts, fuel receipts and even packing supplies used for the move. At tax time those receipts may be able to save you a few dollars on your annual tax bill.
Local Transit
If you are moving to Louisville or another large metro area, public transit is available and it won't be too difficult to find your way to or from the shops or work, but if you're moving to the rural areas of the state, you are going to need a personal car or access to one that you can drive. A few weeks before you plan to relocate, it's a good idea to arrange for your car to be transported so you'll have it when you need it to travel around this beautiful state.
The Mail Must Go Through
A couple weeks before you move, you should contact the U.S. Postal Service to ensure they will forward your mail to your new address. You certainly don't want to miss out on receiving your utility deposits from the old address when the previous companies begin to mail them out.
Be sure to leave the new address and other contact information with a relative or close friend before you leave the old address. A move is a big step, but when you take time to plan, it can be made easily without undue stress caused from rushing to get things handled at the last minute.